destinations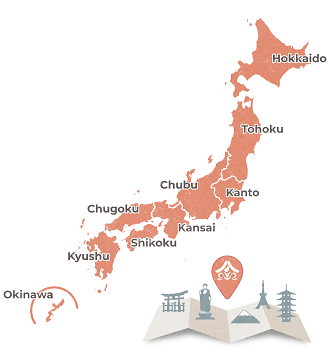 To get an idea of where you can go when you visit Japan, please take some time to browse our destinations pages. Click on any of the links below for a short description of the destination's location, history and characteristics.

Warning: Missing argument 1 for Dest::get_by_regions_and_destinations_for_nav(), called in /home/myrediscover/public_html/wp-content/themes/rtours/header.php on line 545 and defined in /home/myrediscover/public_html/wp-content/plugins/rtours/classes/Dest.php on line 26


Koyasan
Koyasan is a holy temple complex located on a mountain top, surrounded by cedar trees and mountain peaks. It is the center of Shingon Buddhism and one of the most important spiritual centers in Japan, with over one hundred temples.
One of the highlights of visiting Koyasan is walking through the Okunoin Cemetery. This cemetery lies in the middle of a forest of majestic cedar trees, and the roughly 200,000 graves contain some of the most famous figures in Japanese history. At night the roughly one mile path through the cemetery is lit by overhead lights and stone lanterns, and it makes for a wonderful evening stroll.
Speak to your Japan Expert
We will keep perfecting your itinerary until you're completely happy and ready to book +1-248-747-4048


Tours that Visit Koyasan:
Why Rediscover Tours?
Japan Experts
Rediscover Tours is "People and Culture"
Slow-paced and In-depth
Varied Japanese-style Accommodations
Varied Japanese Cuisine
Rediscover Tours offers visitors a rare chance to truly get to know the Japanese people and to intimately experience the Japanese culture.