What our customers have to say…
The best part of our job is to contact our travelers and see how much they enjoyed their tour.
Once our guests return home from Japan we ask them to send us their reviews, photos or video.
We hope the below reviews will make you feel comfortable using our service.
It was our first trip to Japan. Working with Jeff was a pleasure. His knowledge of the country and local contacts were very helpful. Choice of hotels were conveniently situated and luxurious. We did an entirely customized tour over New Years with our teenagers. There were last minute logistical challenges with train reservations due to the holiday which his local contacts overcame and everything went smoothly with no hassle. Local guides in Kyoto and Tokyo added a Japanese touch and conversation, while being very flexible with our family. The Kyoto guide was especially informative showing us interesting smaller sites that we would have overlooked and finding tasty samples to try along the way. The Tokyo guide directed us to a hidden Japanese garden that we would not have gone to otherwise, which we all enjoyed. He even helped us plan the next day which was on our own. Jeff had recommended having a guide meet us at the airport on arrival. While at first, I thought this was unnecessary, I'm glad I went along since it would have been difficult to navigate all the different trains and validating the JR pass and making bullet train reservations on my own on this first visit after the long flights. Thanks again!
-- John Moawad
A very well thought out trip · Japan - Sep 26 - Oct 14, 2019

A very well thought out trip working around 2 Rugby world cup matches which inevitably constrained the itinerary to a degree. The information provided before and during the trip was excellent and where we had guides they were very good, it was nice to be met at the airport and talked through using the train system and to set up our japan rail pass. We became confident in using the transport systems much more quickly than we would have left to our own devices.

Hotel choices were well judged with great locations and were a better standard than I expected for the cost of the tour. We took up a couple of suggestions that we wouldn\'t normally have gone for and were glad that we did - the evening guided food and drink tour in Osaka was particularly memorable.

We started with a few days in Tokyo then travelled down to Hiroshima and over to Miyajima Island - that was a highlight despite the iconic Tori gate being covered in scaffolding. We then got the train back up to Kyoto where we were based for 4 nights, as well as visiting numerous sites here we also did day trips to Nara - must visit, loved the deer and Himeji castle where we were shown round by a volunteer guide - these were available at numerous sites and very knowledgeable.

The station hotel in Kyoto was probably our favourite in Japan - great rooms, facilities and location and good restaurant recommendations by the concierge.

Next we went back to Tokyo for 3 days and met up with some friends for a couple of days watching England beat Argentina, visiting the robot restaurant and going on a bar/restaurant crawl, we also really enjoyed the team labs borderless digital art gallery.

From Tokyo we did a loop through the mountains first to Kanazawa, we then stopped at the world heritage site village of Shirakiwa-go in the mountains on the way to Takayama. We stayed for 2 nights in a ryokan in Takayama to coincide with the autumn festival - a lovely town and great experience. From here we got the bus to Matsumoto where we visited the castle and art museum.

Our last stop on the trip was Yokohama - very near Tokyo but quite a different feel with a very interesting waterfront. Unfortunately the England v France match was cancelled as Typhoon hagibis passed through on the saturday - it was eerie spending a day in the hotel with everything shut down.

The weather was beautiful the next morning and we managed to get tickets to watch Japan beat Scotland - a memorable last night in Japan before our flight home next morning.
-- Peter E.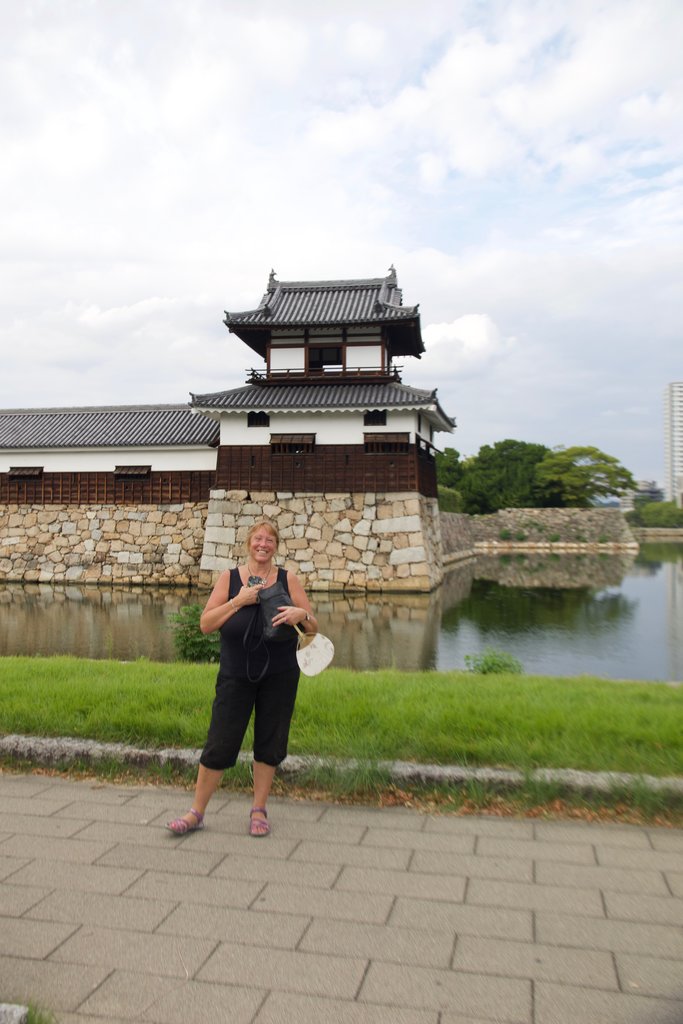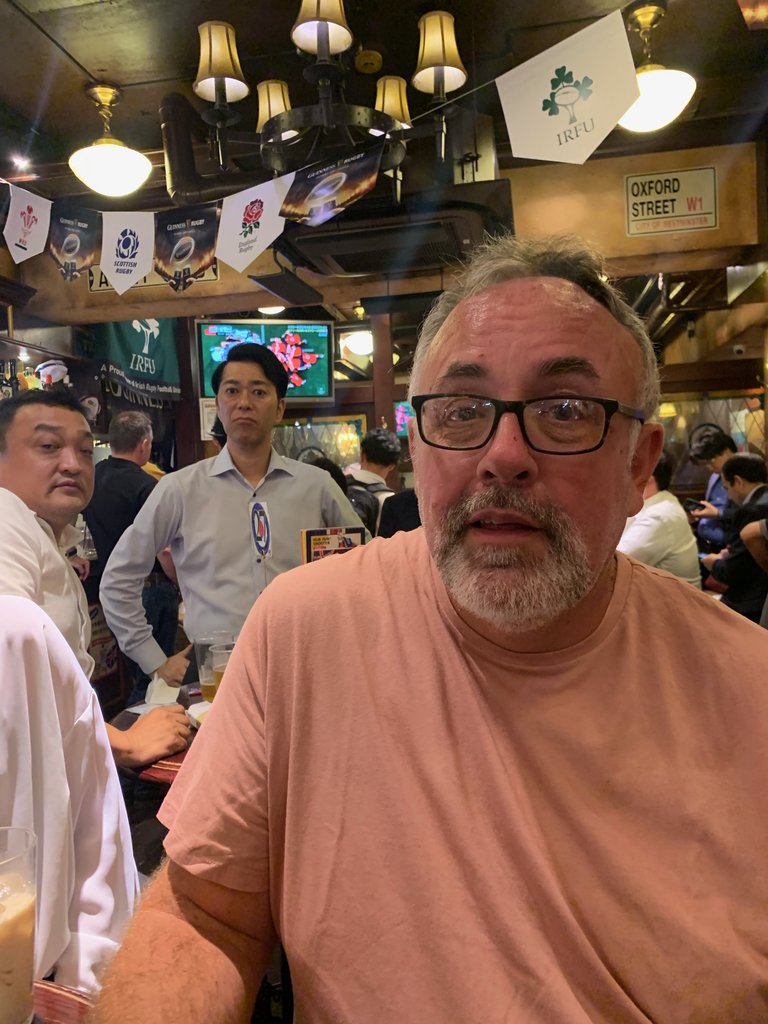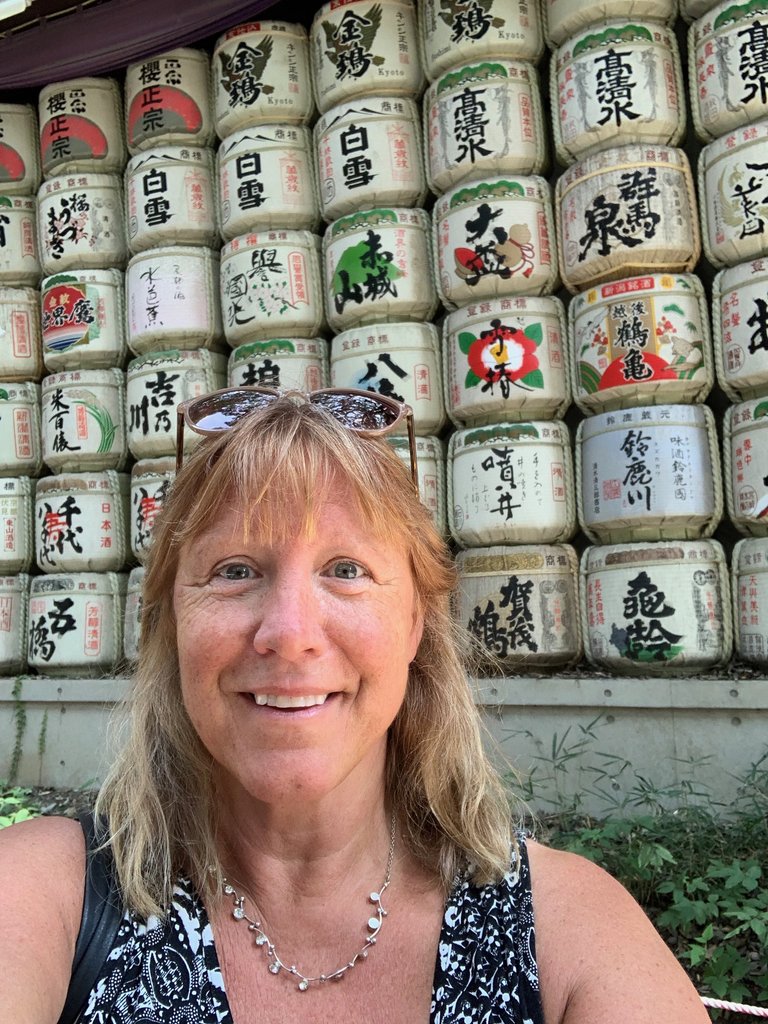 We had soooo much fun. Your planning was meticulous. Our accommodations were beyond what I could have expected (actually beyond and more fabulous than we normally have).
Our trip was altogether wonderful. No complaints.

A few specifics:
I thought I had surely dropped something, my retainer (for my teeth- expensive and recently purchased) in the trash accidentally in our hotel in Kyoto. Much later, near the end of our trip, we were notified that it had been found and was being shipped to us (I had not reported its' loss!). In addition, and separately, my daughter-in-law forgot her notebook at a hotel and it was found and sent to us. This never would have happened in my country, so I was so impressed! Customer service was exceptional everywhere we went. The accomodations were unbelievable. What a treat. (Of course, we paid for it, but your arrangements were spot-on. No detail was forgotten.

The multiple ryokans, which I had requested, were all wonderful and different, and so fun to experience. The absolute most memorable were the first and nearly the last, Suiun and Sennenmatsu. Wow.

Our tour tour guides in Tokyo (Masamichi Yamaguch -Patrick) and in Kyoto (Miwa)were great.

Miyajima was gorgeous. Of course, it was unfortunate that the shrine was under scaffolding. I guess we'll have to come back to see it in full glory. We still need a guide's explanation of the many little Buddha statues with clothing that we saw (do you have an answer?)The view from the top of the mountain and the hike down were incredible.

Our visit to Hiroshima was well worth it, both heartbreaking and educational, and the view from our hotel room incredible. I am now continuing to learn about this significant episode of world history/tragedy.

Our bike trip on the inland sea, with our entire family, was absolutely a highlight of our trip. Fabulous. I cannot recommend it enough. So well organized, and so gorgeous. The biking infrastructure and the bikes provided us were perfect. My husband was recovering from an illness, and the electric bikes (though not initially requested) were absolutely appreciated and perfect. Their delivery and hand-off's were seamless, perfect. The arrangements with our other family members went perfectly, too.

We hope to do another trip. It was all perfect. Pricey, But really worth every cent.

Arigatogozaimashita
Maria & Carl
-- Maria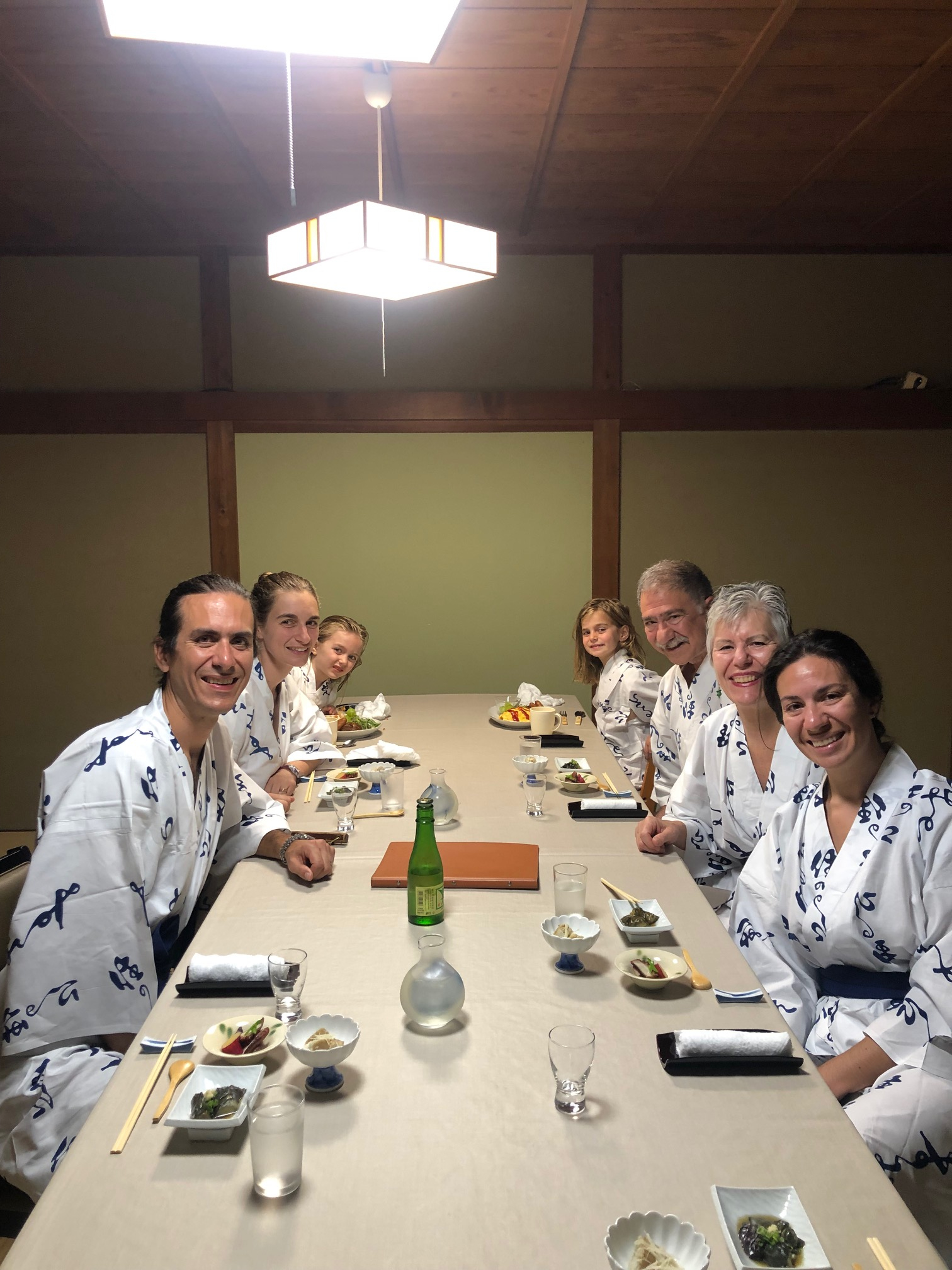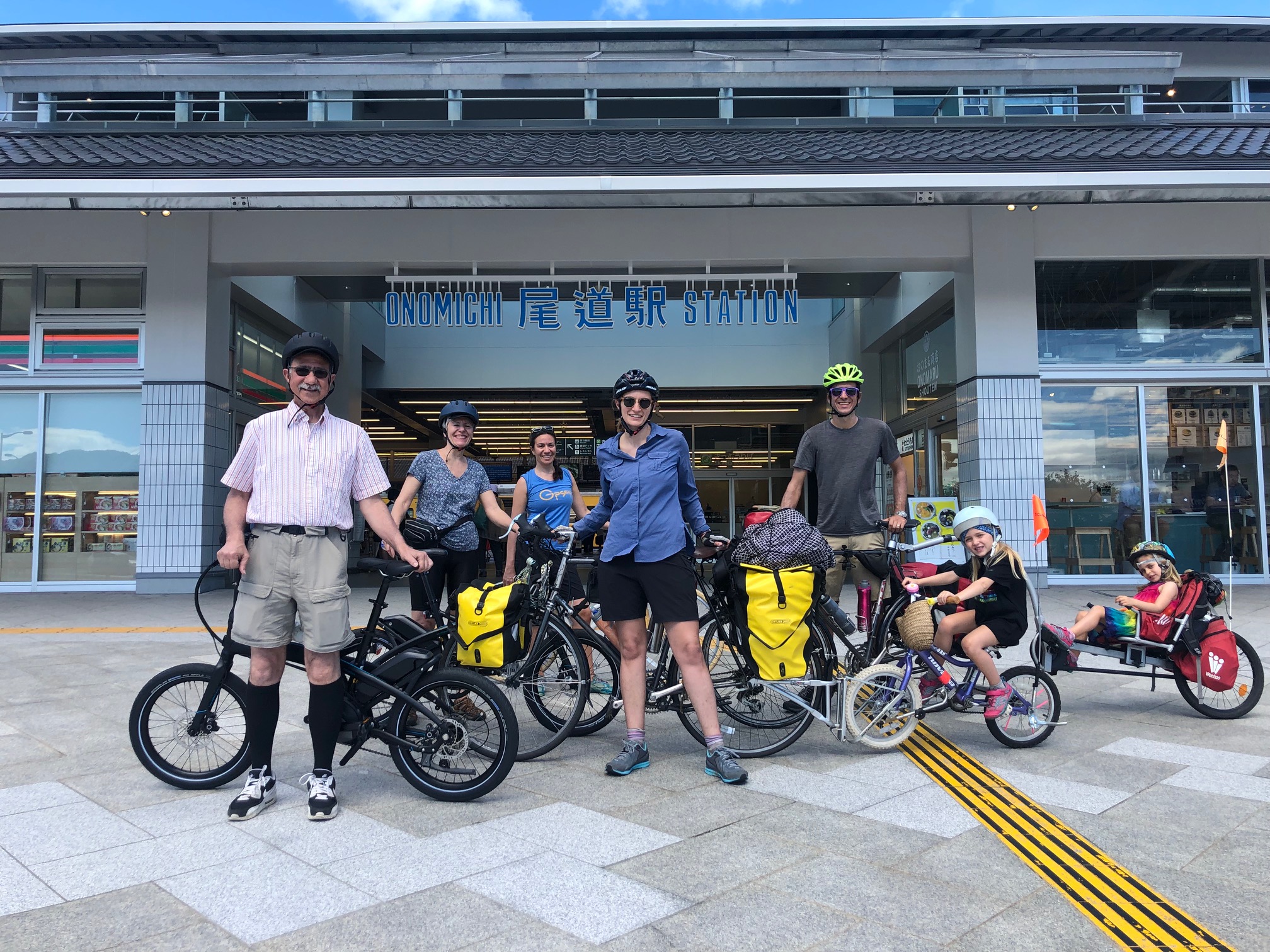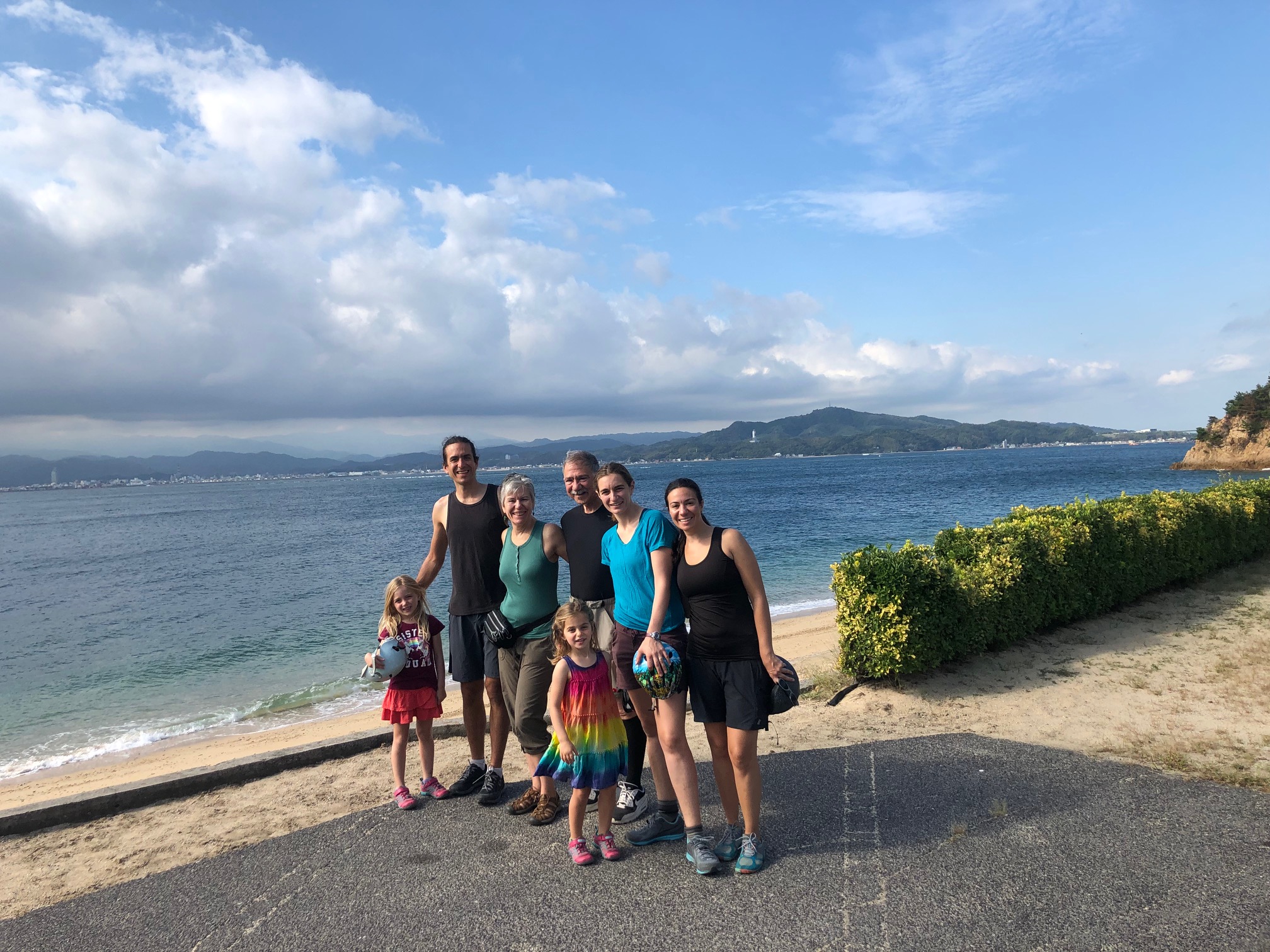 I would like to take this opportunity to commend and thank you for the marvelous vacation we recently enjoyed in Japan. The entire experience exceeded our already lofty expectations. Both tour guides (Ms. Junko Dougaushi in Tokyo and Ms. Ritsuko Nakayama in Kyoto) were knowledgeable and extremely helpful. We were more than satisfied with Keio Plaza Hotel Tokyo and especially with Iwaso on Miyajima Island. I am so glad that you suggested a night at a ryokan.

My wife and I found Japan to be as advertised - modern (yet ancient), safe, and clean, with incredibly polite people. The sites were interesting, the transportation was exceptionally punctual, and we enjoyed the food.

Our only real disappointment was that we did not have enough time in Hiroshima. We could easily have spent an entire day (and night) there. By the time we arrived from Tokyo, we had just enough time to walk around the Atomic Bomb Dome and the Peace Park. We could not wait on the long lines to enter the museum because we had to catch the ferry for Miyajima. However, we understood that the large crowds were partially due to Golden Week.

Kyoto Century Hotel was okay, but not nearly as excellent as were the other two accommodations. The fact that it was impossible to have reserved seats on most of the shinkansen was not a major impediment as we simply arrived a little earlier to ensure that we would catch the correct trains (which we did).

We have taken numerous wonderful trips over the years and this rates overall as among the best ever. Thank you again for your attention to detail. I would not hesitate to recommend your company to anyone planning a trip to Japan.
-- Dan Ecker
Your overall comments on the trip and the travel company:
Working with Jeff at Rediscover Tours was a wonderful experience. He helped me plan a 10 day trip of a lifetime to Japan with my mother, and it was nothing short of fantastic! The process was seamless and he took care of everything including hotel reservations, train passes and reserved tickets, restaurant reservations and a private guide for one day in each city we visited. We went to Toyko, Kyoto and Hakone. Each city was unique and so much fun to explore for us, and we enjoyed each day tackling both traditional Japanese sites and more contemporary experiences. We still got to pick and choose what sites we wanted to see on our own, but all of the heavy lifting was done for us so we had nothing else to do but enjoy the culture and explore the cities. I can't recommend Rediscover Tours enough for planning a trip to Japan! Our trip exceeded our expectations, and our expectations were already pretty high!

What were the most enjoyable or memorable parts of your trip?
Both our private guide in Tokyo and our private guide in Kyoto were fascinating women who showed us some places off of the beaten path, and this was especially helpful during cherry blossom season when the crowds were dense. We also really enjoyed our hotel in Tokyo because it was across the street from Tokyo Station, which helped us to get around the city quickly, catch our trains to our other cities, and Tokyo Station itself has so much to explore inside of it. This was definitely an unforseen advantage that added a lot to our stay in Tokyo, particularly. In Kyoto we really enjoyed seeing the cherry blossoms in a local park with our guide, away from the crowds. We also really enjoyed visiting the Fushimi Inari-taisha Shrine, we went very early in the morning and it was a site we will never forget. And finally, Jeff at Rediscover really pushed us to do one night in Hakone, a mountain town outside of Tokyo. This experience was like none I could have imagined. We stayed in a ryokan with our own hot spring bath, and the hotel and room were like something out of a movie - breathtaking is an understatement. We also experienced a kaiseki dinner there, which was another out-of-this-world experience. My mother and I had a truly fantastic experience there, and even had time to go to the Hakone Open Air Museum which was another trip favorite. Then overall, we just enjoyed the food and culture of the Japanese people so much. Thank you to Rediscover Tours!
-- Marina Boyer
HIGHLY RECOMMEND for anyone traveling to Japan. Everything about my trip was amazing. Rediscover Tours helped me create the perfect customized vacation to Japan. I could not be more impressed with their knowledge of Japan, credibility based on the places they recommended I visit and the excellent communication 5 months leading up to my trip! Everything was organized, well coordinated and ready for me when I was there. It made traveling alone very easy and hassle-free. I visited Tokyo, Kanazawa and Kyoto. Each place was so unique and had a lot to offer. If I had to narrow it down to a few highlights I would say MariCar in Tokyo which was go carting around famous areas in Tokyo dressed up as Mario Kart characters, visiting Hase-dera Temple in Kamakura, feeding wild monkeys in Arashiyama, feeding wild deer in Nara and just taking in all the beauty and spirituality that Japan has to offer.

Other places I enjoyed as well were Kanazawa and the Ninja Temple and Samurai District, teppanyaki meal at my hotel, Shirakawa-go, all of my private tours (they selected excellent guides), Harajuku and the Owl Cafe, Ryosen-an zen meditation in Daitokuji Temple in Kyoto, Ryogoku and the Sumo Arena, Akihabara, and all the incredibly beautiful temples and shrines. My cooking class at Cooking Sun and tea ceremony at Ami-Kyoto were great too!
-- Cassie Babtkis
Aria is a golden asset. When I first met her I was surprised that such a relatively young person would shoulder so much responsibility. But she is well up to the task. She accommodated a wide variety of requests and requirements with the most practical aplomb I could imagine. And even when taxed beyond what I would have thought reasonable, she remained chipper and upbeat. The trip lived up to my expectations or exceeded them on many levels. Thanks for the great memories.
-- R. Patterson
We want to commend Mari Ohara in the highest terms possible. She said "Yes, of course!" to every request anyone made and followed through. You couldn't possibly have come up with a better ambassador of Japanese culture than Mari. It was a terrific trip. The food, the variety of sites, the pace: everything was superb. Hats off to everyone involved, and, again, thanks especially to Mari-san for sharing her love of Japan with us.
-- D. Kirby
I believe the Shoguns and Samurai Tour was the best we went on after 5 previous Tour of Japan especially the Minshukus and Ryokans.
-- P. Fujimoto
Once again, many thanks for arranging everything, and effusive praise for all your staff. I would unhesitatingly recommend your company to any like minded folks who want to explore for themselves, need guidance and want the assurance of top quality accommodation at the end of the day.
-- H. B.