destinations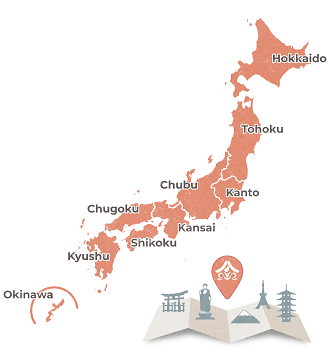 To get an idea of where you can go when you visit Japan, please take some time to browse our destinations pages. Click on any of the links below for a short description of the destination's location, history and characteristics.

Warning: Missing argument 1 for Dest::get_by_regions_and_destinations_for_nav(), called in /home/myrediscover/public_html/wp-content/themes/rtours/header.php on line 544 and defined in /home/myrediscover/public_html/wp-content/plugins/rtours/classes/Dest.php on line 26


Nara
Nara is located in the central west of Honshu, the Japanese main island. Formerly known as Heijo-kyo, this city occupies an important position in the history of Japan as the first capital from 710 until 784. During this period, a large number of shrines and temples were erected under the protection of the imperial family and aristocrats. However, when the monks in the surrounding hills started gaining too much influence and eventually tried to seize power, it was decided to move the capital to Heian-kyo, nowadays known as Kyoto.
Many of the temples built at the height of Heijo-kyo, like the Todai-ji and Horyuji temples, are currently registered as World Heritage Sites. Both Japanese and foreign tourists visit the city to see these temples, to walk among the free-roaming deer of Nara park or to visit some of the beautiful scenic mountains surrounding the city.
Additional Resources
Sightseeing in Nara by the JNTO
What's On in Nara by the Nara Prefectural Government
Speak to your Japan Expert
We will keep perfecting your itinerary until you're completely happy and ready to book +1-248-747-4048


Why Rediscover Tours?
Japan Experts
Rediscover Tours is "People and Culture"
Slow-paced and In-depth
Varied Japanese-style Accommodations
Varied Japanese Cuisine
Rediscover Tours offers visitors a rare chance to truly get to know the Japanese people and to intimately experience the Japanese culture.