destinations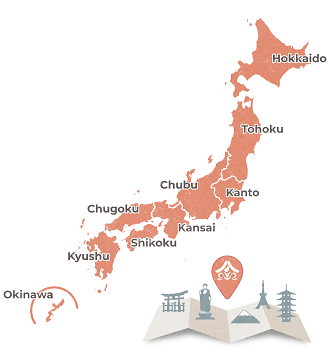 To get an idea of where you can go when you visit Japan, please take some time to browse our destinations pages. Click on any of the links below for a short description of the destination's location, history and characteristics.

Warning: Missing argument 1 for Dest::get_by_regions_and_destinations_for_nav(), called in /home/myrediscover/public_html/wp-content/themes/rtours/header.php on line 545 and defined in /home/myrediscover/public_html/wp-content/plugins/rtours/classes/Dest.php on line 26


Kanazawa
Kanazawa, a castle town on the coast of the Sea of Japan, is the capital of Ishikawa Prefecture and the largest city in the Hokuriku district. It is most famous for Kenrokuen Garden which was the private garden of the daimyo who lived in the castle during the Edo Period (1603 – 1868).
Kanazawa is a hub of culture and artistic creativity. Skilled tradesmen employ methods hundreds of years old to make Kaga Yuzen, Kutaniyaki and Shikki products. Kaga Yuzen is the art of painting on silk, used for kimonos as well as smaller items such as scarves and handkerchiefs. Kutaniyaki is colorful ceramic, and Shikki is lacquer ware. Kanazawa produces 99% of the gold leaf used in Japan.
Noh is a form of musical drama that has been performed in Japan since the 14th century. Older than Kabuki and more restrained, Noh performances are elegant and slow-paced. Since the Edo Period Kanazawa has developed and promoted the Kaga-Hosho style of Noh. Performances are regularly held throughout the year by Kanazawa Nohgakkai at the Ishikawa Prefecture Noh Theater. The Kanazawa Noh Museum encourages the understanding and appreciation of Noh.
What to Do in Kanazawa

Kenrokuen Garden
Nagamachi (Samurai Neighborhood)
Higashi Chaya (Geisha) Districts
Ninjadera (ninja temple)
21st Century Museum
Seisonkaku Villa
Omicho Market
D.T. Suzuki Museum
Speak to your Japan Expert
We will keep perfecting your itinerary until you're completely happy and ready to book +1-248-747-4048


Tours that Visit Kanazawa:
Why Rediscover Tours?
Japan Experts
Rediscover Tours is "People and Culture"
Slow-paced and In-depth
Varied Japanese-style Accommodations
Varied Japanese Cuisine
Rediscover Tours offers visitors a rare chance to truly get to know the Japanese people and to intimately experience the Japanese culture.