destinations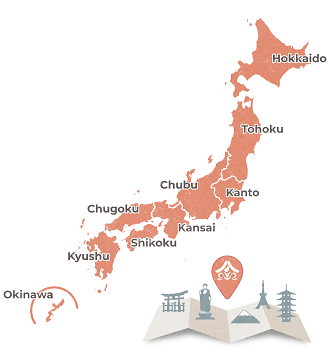 To get an idea of where you can go when you visit Japan, please take some time to browse our destinations pages. Click on any of the links below for a short description of the destination's location, history and characteristics.

Warning: Missing argument 1 for Dest::get_by_regions_and_destinations_for_nav(), called in /home/myrediscover/public_html/wp-content/themes/rtours/header.php on line 545 and defined in /home/myrediscover/public_html/wp-content/plugins/rtours/classes/Dest.php on line 26


Hakone
Part of the Fuji-Hakone-Izu National Park, this scenic area offers pristine natural beauty and hot spring baths. The Hakone area has been a popular hot spring resort for hundreds of years, and to this day people travel there to get away from the cities and relax. The various hot springs in Hakone are believed to have healing properties, and the most popular is Yumoto.
While the emphasis in Hakone is to enjoy nature and relax in its natural hot spring baths, there are interesting sights to see. Parts of the historical Tokaido highway, which used to be the main route connecting the Shogun's capital of Edo and the imperial city of Kyoto, are still intact. A checkpoint used during the Edo Period (1600-1868), has been rebuilt. Its buildings and a small museum are open to visitors.
Lake Ashinoko, created by volcanic Mt Hakone thousands of years ago, is popular because of its beauty. Sightseeing boats, including replicas of pirate ships, are available to enjoy it from offshore. On very clear days Mt Fuji can be seen from Lake Ashinoko, but this does not happen often.
The Hakone Art Museum in Gora contains ceramics from the Jomon through the Edo Periods. The Haniwa burial statue, which has been classified as an Important Cultural Property, is one of the exhibits. The museum also has a Japanese moss garden on its grounds. Gora Park is a Western style (mainly French) garden on the slopes above Gora Station.
Togendai has spectacular views and depending on the weather visitors might even be able to see Mt Fuji. There is a walkway around the Owakudani area, which is the crater that was formed during the last eruption of Mt Hakone about 3,000 years ago. This area remains an active volcanic zone where steam vents and bubbling pools can be seen.
Riding the scenic Tozan mountain railway is a good way to experience the natural beauty of the region. The Hakone Tozan Railway was Japan's first mountain railroad. Its small trains run about every 15 minutes between Hakone-Yumoto and Gora.
Speak to your Japan Expert
We will keep perfecting your itinerary until you're completely happy and ready to book +1-248-747-4048


Why Rediscover Tours?
Japan Experts
Rediscover Tours is "People and Culture"
Slow-paced and In-depth
Varied Japanese-style Accommodations
Varied Japanese Cuisine
Rediscover Tours offers visitors a rare chance to truly get to know the Japanese people and to intimately experience the Japanese culture.