destinations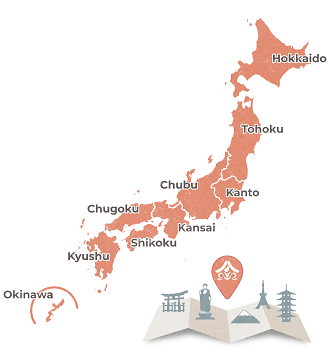 To get an idea of where you can go when you visit Japan, please take some time to browse our destinations pages. Click on any of the links below for a short description of the destination's location, history and characteristics.

Warning: Missing argument 1 for Dest::get_by_regions_and_destinations_for_nav(), called in /home/myrediscover/public_html/wp-content/themes/rtours/header.php on line 544 and defined in /home/myrediscover/public_html/wp-content/plugins/rtours/classes/Dest.php on line 26


Matsushima
Matsushima, located in Miyagi Prefecture, is a group of about 260 shima, small islands, covered in matsu, pines. Along with Miyajima and Amanohashidate, Matsushima Bay is one of Japan's most famous sights. Matsushima's beauty can be appreciated by land or sea. Various points among the islands are ideal for viewing the scenery, and local cruises allow visitors to enjoy the islands from offshore.
Visitors to Matsushima experience the peaceful atmosphere of its temples and natural beauty. The ancient Godaido temple is located next to Matsushima Pier. Its outer walls are decorated with carvings of the twelve animals from the lunar calendar. Enshrined within Godaido are the statues of five deities. Rarely seen by the public, these statues are displayed only once every 33 years. Zuigan-ji, another temple in Matsushima, is well known for its caves carved into the rock and used for memorial services. An art museum on the temple grounds, established in 1995, displays calligraphy, fusuma paintings, tea cups and portraits. Oshima Island, close to Matsushima Pier, can be reached on foot by crossing a short bridge. The island has caves that were formerly used by Buddhist monks to pray and meditate in.
Overlooking Matsushima Bay, Karantei is the largest Momoyama-style tea house in Japan. This elaborately decorated tea house was originally built in Kyoto, and moved to Matsushima in 1645. One of its rooms has sliding screens covered in gold foil and fine works of art hung upon its walls. Behind the tea house Matsushima Museum has tools, armor, weapons, and other artifacts on display.
Speak to your Japan Expert
We will keep perfecting your itinerary until you're completely happy and ready to book +1-248-747-4048


Tours that Visit Matsushima:
Why Rediscover Tours?
Japan Experts
Rediscover Tours is "People and Culture"
Slow-paced and In-depth
Varied Japanese-style Accommodations
Varied Japanese Cuisine
Rediscover Tours offers visitors a rare chance to truly get to know the Japanese people and to intimately experience the Japanese culture.