destinations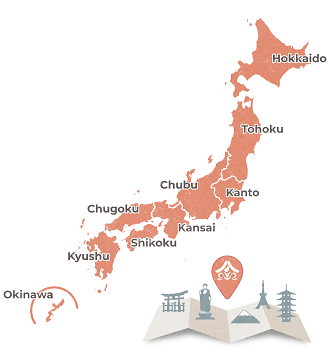 To get an idea of where you can go when you visit Japan, please take some time to browse our destinations pages. Click on any of the links below for a short description of the destination's location, history and characteristics.

Warning: Missing argument 1 for Dest::get_by_regions_and_destinations_for_nav(), called in /home/myrediscover/public_html/wp-content/themes/rtours/header.php on line 544 and defined in /home/myrediscover/public_html/wp-content/plugins/rtours/classes/Dest.php on line 26


Nikko
Nikko is situated in Tochigi prefecture north of Tokyo. A former sacred spot for the Edo (Tokyo) Shogunate, this area is known for its glorious shrines and temples set in a beautiful surrounding with waterfalls and lakes.
One of the main attractions in Nikko is the Toshogu shrine. Toshogu is where the first shogun of the Edo Shogunate (17th-19th century), Ieyasu Tokugawa, is enshrined. As many as 127,000 craftsmen were involved in constructing the building, using the highest level of technology available at the time. In the back of the shrine, you can see the famous carvings of the 'three monkeys', known throughout the world for their 'see no evil, hear no evil and speak no evil' poses.
In 1999, the buildings on Mount Nikko and the forest areas in the surrounding area were registered as a UNESCO World Cultural Heritage site.
Speak to your Japan Expert
We will keep perfecting your itinerary until you're completely happy and ready to book +1-248-747-4048


Why Rediscover Tours?
Japan Experts
Rediscover Tours is "People and Culture"
Slow-paced and In-depth
Varied Japanese-style Accommodations
Varied Japanese Cuisine
Rediscover Tours offers visitors a rare chance to truly get to know the Japanese people and to intimately experience the Japanese culture.