destinations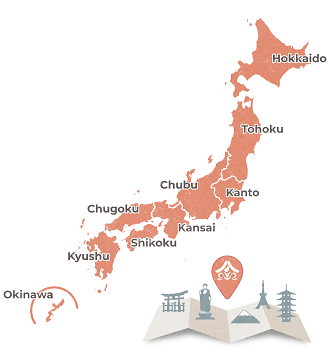 To get an idea of where you can go when you visit Japan, please take some time to browse our destinations pages. Click on any of the links below for a short description of the destination's location, history and characteristics.

Warning: Missing argument 1 for Dest::get_by_regions_and_destinations_for_nav(), called in /home/myrediscover/public_html/wp-content/themes/rtours/header.php on line 544 and defined in /home/myrediscover/public_html/wp-content/plugins/rtours/classes/Dest.php on line 26


Takamatsu
Takamatsu, in Kagawa Prefecture, is known as the gateway to Shikoku because of its sea and rail connections to the main island of Honshu. In particular, it is close to the impressive Seto-Ohashi bridge, a colossal structure 13.1 kilometers (8.1 miles) in length. The biggest of its kind in the world, this bridge provides important rail and road connections between the two islands.
Although it was a castle town in the 17th century, Takamatsu is now a modern city. Its seaside castle, a rarity in Japan, no longer exists, but the ruins can still be visited. Ritsurin Koen Garden, while not one of the "big three" Japanese gardens, is still one of the best available and a must-see for visitors. Additionally, Shikoku Mura, and open-air museum where relocated, traditional Shikoku-style architecture can be seen, is another one of the city's popular sights. Nearby Yashima peninsula offers stunning views of the Seto Inland Sea and its many small islands, especially at sunset.
Speak to your Japan Expert
We will keep perfecting your itinerary until you're completely happy and ready to book +1-248-747-4048


Tours that Visit Takamatsu:
Why Rediscover Tours?
Japan Experts
Rediscover Tours is "People and Culture"
Slow-paced and In-depth
Varied Japanese-style Accommodations
Varied Japanese Cuisine
Rediscover Tours offers visitors a rare chance to truly get to know the Japanese people and to intimately experience the Japanese culture.