destinations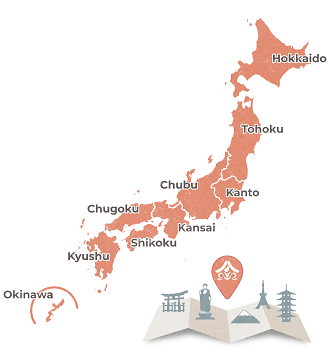 To get an idea of where you can go when you visit Japan, please take some time to browse our destinations pages. Click on any of the links below for a short description of the destination's location, history and characteristics.

Warning: Missing argument 1 for Dest::get_by_regions_and_destinations_for_nav(), called in /home/myrediscover/public_html/wp-content/themes/rtours/header.php on line 545 and defined in /home/myrediscover/public_html/wp-content/plugins/rtours/classes/Dest.php on line 26


Tokyo
One of the most densely populated places in the world, Tokyo counts about 11 million inhabitants. Although most of the city was destroyed during the great earthquake in 1923 and WWII, it managed to restore itself rapidly and is now the largest city in Japan, speaking to the imagination of people all over the world.
Tokyo is divided into a number of large scale downtown areas, each offering a number of interesting things to see and do. Shinjuku is widely known for its neon lights and high-rise buildings and Harajuku as a cultural haven for Tokyo's youth. There is Ginza where shops of all the famous international brands stand side by side and Akihabara, where electronic gadget aficionados can find all the latest products on the market. For a glimpse of Tokyo's past, head down to Asakusa, the site for many traditional events and the famous Sensoji Temple, attracting a constant flow of worshipers and visitors.
Whatever you are into, Tokyo's many sights, events, shops and museums will make a visit to this city interesting for each traveler.
Additional Resources
Sightseeing in Tokyo by the JNTO
What's On in Tokyo by the Tokyo Tourist Information Center
Speak to your Japan Expert
We will keep perfecting your itinerary until you're completely happy and ready to book +1-248-747-4048


Why Rediscover Tours?
Japan Experts
Rediscover Tours is "People and Culture"
Slow-paced and In-depth
Varied Japanese-style Accommodations
Varied Japanese Cuisine
Rediscover Tours offers visitors a rare chance to truly get to know the Japanese people and to intimately experience the Japanese culture.