destinations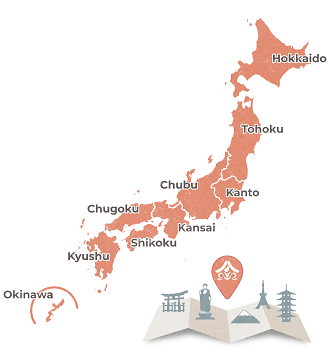 To get an idea of where you can go when you visit Japan, please take some time to browse our destinations pages. Click on any of the links below for a short description of the destination's location, history and characteristics.

Warning: Missing argument 1 for Dest::get_by_regions_and_destinations_for_nav(), called in /home/myrediscover/public_html/wp-content/themes/rtours/header.php on line 544 and defined in /home/myrediscover/public_html/wp-content/plugins/rtours/classes/Dest.php on line 26


Discover Shimanami Kaido Islands
Shimanami Kaido Islands
The Shimanami Kaido is the toll road that connects Honshu to Shikoku. It is 60 kilometer long and passes over six small islands in the Seto Inland Sea. It is also called the Nishiseto Expressway.
The Shimanami Kaido begins on Honshu in Onomichi. It then leads across the six islands of Mukaishima, Innoshima, Ikuchijima, Omishima, Hakatajima and Oshima, before terminating on Shikoku in Imabari. The route was opened in 1999; the bicycle route is easy to ride, well marked and maintained, and diverges from the expressway on the islands. Don't worry about getting lost; simply follow the blue line on the road. Along the bridges there is a designated cycling path separated from the road which helps to make your bike trip more comfortable and enjoyable. The calm sea, wonderfully scenic islands and magnificent bridges attract visitors from all over the world.
Speak to your Japan Expert
We will keep perfecting your itinerary until you're completely happy and ready to book +1-248-747-4048


Tours that Visit Shimanami Kaido Islands:
Why Rediscover Tours?
Japan Experts
Rediscover Tours is "People and Culture"
Slow-paced and In-depth
Varied Japanese-style Accommodations
Varied Japanese Cuisine
Rediscover Tours offers visitors a rare chance to truly get to know the Japanese people and to intimately experience the Japanese culture.