destinations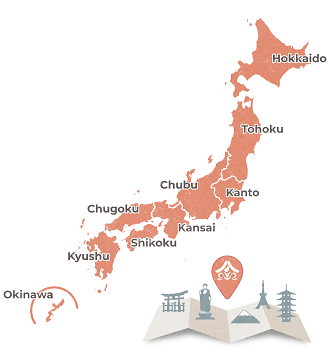 To get an idea of where you can go when you visit Japan, please take some time to browse our destinations pages. Click on any of the links below for a short description of the destination's location, history and characteristics.

Warning: Missing argument 1 for Dest::get_by_regions_and_destinations_for_nav(), called in /home/myrediscover/public_html/wp-content/themes/rtours/header.php on line 544 and defined in /home/myrediscover/public_html/wp-content/plugins/rtours/classes/Dest.php on line 26


Iriomote
Iriomote is the second largest island in Okinawa. It is mostly undeveloped, with nearly 90 percent of its land covered by dense jungle and mangrove forests. The Iriomote Ishigaki National Park covers most of the island. This islands offers a number of different activities including:
- Kayaking in the mangroves
- River Cruise
- Pinaisara Falls (reached by river boat and a 30-40 minute hike)
- Beaches like Hoshizuna no Hama or Tudumari no Hama
- Barasu Island (Barasu Island is a small coral island a short boat ride from Uehara Port. Here you will join a half day snorkeling tour. The clear waters surrounding the island offer plenty of opportunities to see corals and marine life.
-Yubujima Suigyu (water buffalo) Cart Ride
Let us know what interest you the most and we will make the arrangements.
Speak to your Japan Expert
We will keep perfecting your itinerary until you're completely happy and ready to book +1-248-747-4048


Tours that Visit Iriomote:
Why Rediscover Tours?
Japan Experts
Rediscover Tours is "People and Culture"
Slow-paced and In-depth
Varied Japanese-style Accommodations
Varied Japanese Cuisine
Rediscover Tours offers visitors a rare chance to truly get to know the Japanese people and to intimately experience the Japanese culture.