destinations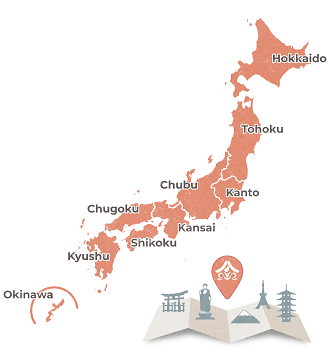 To get an idea of where you can go when you visit Japan, please take some time to browse our destinations pages. Click on any of the links below for a short description of the destination's location, history and characteristics.

Warning: Missing argument 1 for Dest::get_by_regions_and_destinations_for_nav(), called in /home/myrediscover/public_html/wp-content/themes/rtours/header.php on line 544 and defined in /home/myrediscover/public_html/wp-content/plugins/rtours/classes/Dest.php on line 26


Shodoshima
Shodoshima is located in the Seto Inland Sea and is believed to be one of the birth place of the gods who created Japan. The name literally means "small bean island" which is probably based on the main crop of soy beans back in the Edo Period. Today the name more accurately refers to the olive production though it is still known as an excellent producer of soy sauce.
It's Mediterranean like weather makes it a perfect destiantion for people looking to get out of the city. It is also known for Setouchi Triennale which is a modern art festival that happens every three years. Many of the art is still on permanent display but many have limited access in the winter.
Speak to your Japan Expert
We will keep perfecting your itinerary until you're completely happy and ready to book +1-248-747-4048


Tours that Visit Shodoshima:
Why Rediscover Tours?
Japan Experts
Rediscover Tours is "People and Culture"
Slow-paced and In-depth
Varied Japanese-style Accommodations
Varied Japanese Cuisine
Rediscover Tours offers visitors a rare chance to truly get to know the Japanese people and to intimately experience the Japanese culture.